Laser has been used for medical purposes for just over 30 years. With the continuous development of laser technology ,the improvement of people's pursuit for health and beauty, the laser technology has more significant advantages in clinical application: It is safer, more effective and widely recognized by more and more doctors & patients.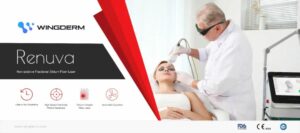 As a laser medical device manufacturer, Wingderm® focuses on the research and production of the new generation of laser medical device, and then promotes it globally. Since the Lasermach©( Diode laser hair removal device ) was widely praised around the whole world in 2018, and we launched Renuva® (1550nm non-ablative fractional laser device) in 2020, which has been certified by the Medical CE of the European Union and FDA of the United States.
The 1550nm fractional laser has a wide range of applications, including acne scars, stretch marks, wrinkles removal and photoaging, etc. Dr.Martyn King from the UK collaborated with the UK exclusive distributor of Wingderm® and conducted a clinical study on Renuva® for around 1 year. He believes that the application of 1550nm non-ablative fractional laser has its unique advantages in skin anti-aging, especially for the treatment of male photoaging.
Dr.Martyn King's research thesis & video recommendation of Renuva®clinical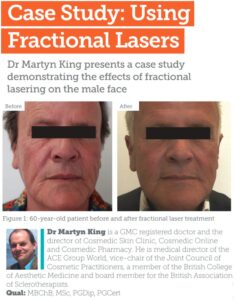 Picture above: Before and After treatment picture using 1550nm ablative laser for a 60-year-old male photoaging patient.
On 3 February 2022, Dr Martyn King published a thesis named 'Clinical research: The application of fractional laser' in the <Aesthetics Journal>, a major journal of medical aesthetics. The study shows that 1550nm non-ablative fractional laser is a safe and effective treatment for wrinkles and skin tightness. "It's quite popular among male patients. The treatment is almost painless with a short recovery period, no regular and additional care is needed, and the treatment results can last for a long time. It can assist other aesthetic treatments or be used as a independent treatment." Dr Martyn King said.